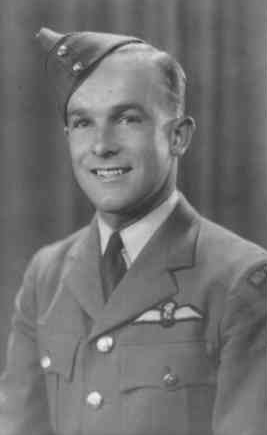 Flight Lieutenant Ross Levy, RNZAF. Image obtained from Auckland Museum Cenotaph web page, and used with their kind permission. You MUST request their permission before using this image yourself.
There appears to be no remaining tangible evidence of the crash on the west side of Potton, involving Stirling IV identification LK207, MA-W on Monday, 19th October 1944 piloted by Flt Lt Ross Levy RNZAF of 161 Squadron, for 3 Group out of Tempsford.
It seems the crew were carrying out a flight test on the recently received aircraft, which were replacing the squadron's Halifax bombers, when it broke up over the town, and fell in two large pieces, all the crew being killed. A farmer friend, sadly no longer with us, remembered this crash vividly, as it occurred near his school. He recalled the schoolchildren made up special notices for each of the crew, and I had hoped there may be some of this history remaining at the school, but it seems to have been disposed of in a later clear up.
It is possible this aircraft had been involved in a heavy landing only a few days before, and was on a trial flight. It is reported that despite facing imminent death, the pilot wrestled the front fuselage of the plane away from Potton School and saved countless schoolchildren's lives. I do not believe he was sufficiently posthumously rewarded or recognised for this incredible action.
In around 2001, I believe an attempt to locate the wreck site was made, but apparently without success. I am not sure just where the search was conducted, but I believe the placement of the crash site might be very close to what is (at present, anyway) the streets Nursery Close and Langley Gardens. However, there is much confusion between the two Potton Stirling crashes, LK207 and LK236, and I am pretty sure some people have mixed them up in their very old memories. I think the RAF may have records that could be helpful in separating the two incidents; nevertheless, there is evidence that the major wreckage from both aircraft did indeed fall in close proximity to each other. LK236 is described in some sources as crashing at Deepdale in Potton; LK207 as crashing just north of Mrs. Langley's Nurseries alongside the B1042 Potton to Sandy Road, and these places are quite close.
Click on this link to view a map of the west side of Potton, showing where the two planes LK207 and LK236 fell - in MY interpretation! Being so close together in distance, and only some 4 months in time, it is understandable for memories to become confused between them. The smaller circles show where some parts of the wreckage fell. Here are my reasons for where they are located:
LK207 - The North Beds Courier of 24th October, 1944 states that various pieces of wreckage fell on the Royal Oak pub (at the junction of Biggleswade Road with the B1042/B1040) and a cottage nearby, on Oak Crescent (reported as an engine, but more likely other wreckage) and on Chapel Street (Mr. George Gurney at number 7, and also onto Mr. Sharman's garden in the street). These locations are shown ringed with the small red circles. The report also states that the main piece of the wreckage fell in a field to the north of "Mrs. Langleys Nurseries". I haven't yet located a map showing the precise position of these Nurseries, but I do know they were on the north side of the B1042 Potton to Sandy road, and in just such a position is a new development of houses which include the street names "Nursery Close" and "Langley Gardens". Use of the person's name is not enough to say there is a positional connection, but the use of "Nursery" does give just a little weight to the possiblity that the development is indeed where Mrs. Langley's Nurseries were located, and placing the wreck site just to the north of that would also make it reasonably close to what is now Potton Middle School. I might be able to access a 1930s/40s map of Potton from the Potton History Society to narrow down the location of Mrs. Langley's Nurseries a bit more confidently.
Details obtained from Aircraft lost on Allied Force's Special Duty Operations & Associated Roll of Honour page 437 plus a number of other sources.
---
Please note that Mr. Chris Gilson, editor of "FlyPast" magazine, contacted me about this incident, and gave me some very interesting details. He is going to look out some of his research for me to include here, but basically the Air Ministry at the time were concerned about a spate of Stirling crashes where the aircraft seemed to inexplicably go out of control and plummet to the ground, some breaking up in the air. They very thoroughly investigated the Potton accident involving LK207 and it is possible determined the answer from their analysis of this incident. I will add more details when I get them. FlyPast is considering an article for their magazine; if they manage to get it done, I'll post the details here.
---
As a result of the interest shown by FlyPast magazine as described in the previous paragraph, I contacted a friend in Potton History Society who asked around his colleagues. There is some very interesting, and poignant data, about both the Stirling accidents over Potton, this one and LK236. I will ask permission to use the photographs and data they have pertaining to both incidents when they have finished their checks of their archives and their members recollections. I don't think the data is directly accessible from their web-site, but if it is, I will make links here to it on their site instead.
---
The chairman of Potton History Society, Mr. George Howe, put me in contact with a Potton resident, Mr. John Boston, who witnessed the LK207 accident as a ten-year old lad. He and his mother had just entered the Market Square from the Doctor's surgery in King Street, when they heard a very loud bang, almost an explosion, in the air above them. They saw the plane falling, nose down in a spiral fashion and it fell to the west of the town. They went through Bull Street, Kitchener's Yard, Bull Lane, and Station Yard and saw a large piece of the fuselage lying on the ground next to Langley Nurseries and burning fiercely, with the Fire Brigade already in attendance. The tail portion had detached, and John believes it fell in Oak Crescent, he is not sure if the rear-gunner was in the canopy, or whether it was so soon after take-off that the crew had not taken up their in-flight positions as yet. He was not at school that day, but thinks some pieces may have fallen in the school grounds. He remembers the memorial service at Potton Middle School, and the dedication of the photograph of the pilot, attended by many crew family members. For many years, the photograph was on the wall of the head-mistresses office, but now, sadly, seems to have been lost. Fortunately, Potton History Society have a photograph of it, and of the back carrying the details of the dedication, so the item can still be viewed. John recalls the events vividly, as they will have made a very deep impression on a ten-year-old who had never seen the like before. I am hoping that when we get all the stories in that we can, I will be able to include the photograph on this site, or a link to it on the Potton History Society site. John also mentioned his few memories of the Deepdale crash, and the Liberator crash.
Many thanks are due to Mr. George Howe, Mr. Peter Ibbett and Mr. David Thompson of Potton History Society, and to Mr. John Boston, for searching out data and sharing memories of the event.
The Potton History Society image designation is "146-03-dnopx-1944.jpg".
The text on the back of the "Potton History Society" photograph of Flt. Lt. Levy reads: "FLIGHT-LIEUTENANT ROSS VICTOR ALAN LEVY, pilot from 161. Squadron R.A.F., from TEMPSFORD AERODROME; Home Address: Wellington, New Zealand. Pilot of Stirling Aircraft which crashed at POTTON at 11.15 a.m. on Thursday, October 19th., 1944, narrowly missing the Town after flying over this school. The plane was carrying a crew of the pilot and four others, all of whom lost their lives. In appreciation of the pilot's obvious efforts to avoid crashing on the Town, a collection was made for the R.A.F. Benevolent Fund resulting in £100 being subscribed. Receipt for this was sent to the mother in New Zealand who sent a small photograph regretting she was unable to afford an enlargement and expressing the wish that a photograph of her son be placed in this school. This enlargement was made to carry out her wishes, and a copy in colours was sent from the School to the Mother. The photographs were unveiled by Squadron-Leader Holdcroft, Administrative Officer of the Tempsford Aerodrome, on Tuesday, 3rd., July, 1945, in the presence of Flight-Lieutenant Moffat, N.Z.A.F. and three other R.A.F. officers. Mrs Kelley, mother of the Rear Gunner who lost his life in the crash, the School Staff and scholars with Miss Bevan, Head Mistress of the Primary Dept. and some of her scholars, and the School Managers were present. (Signed) Thomas H. Williams. Head Master." [I am not sure which spelling for Patrick Kelly/Kelley is correct - a transcript from the 161 Squadron Operations Log records it as the former, the photograph text as the latter. I have been unable to unearth any information about this gentleman. It is very sad that the originals of these photographs have been lost.]
---
External Link